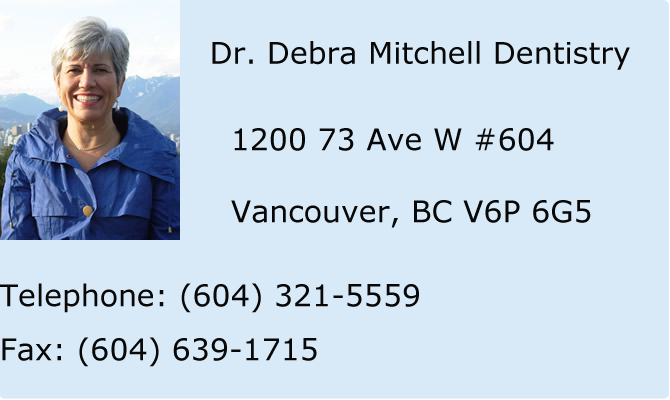 Dr. Debra Mitchell graduated in 1981 from the University of Alberta with a B.Sc. in Medical Science and a DDS.  She practised in Calgary for six years before moving to Vancouver in 1987.
Upon moving to Vancouver she enjoyed working in a group practice for over twenty years. In July 2010 she opened a brand new office in south Vancouver in Airport Square.
Dr. Mitchell is a member of the Canadian Dental Association (CDA), the American Academy of Cosmetic Dentistry (AACD), and the Vancouver and District Dental Society (VDDS) and the Vancouver Study Club, (VSC).
Dr. Mitchell enjoys caring for patients in a thorough yet gentle manner. She wants her patients to understand the options that are available to them, and works with them to choose the treatment plan that will best optimize their dental health.
Cosmetic Dentistry
Preventative Dentistry
Crowns and Bridges
Implants
Dentures and Partial Dentures
Restorative Dentistry
Periodontal Therapy
Oral Surgery
Tags:
Dentists Directory Canada
,
Dr. Debra Mitchell Dentist
,
Vancouver Cosmetic Dentistry List
,
Vancouver dental practice List.
,
Vancouver Dentist List
,
Vancouver Periodontal Disease Expert