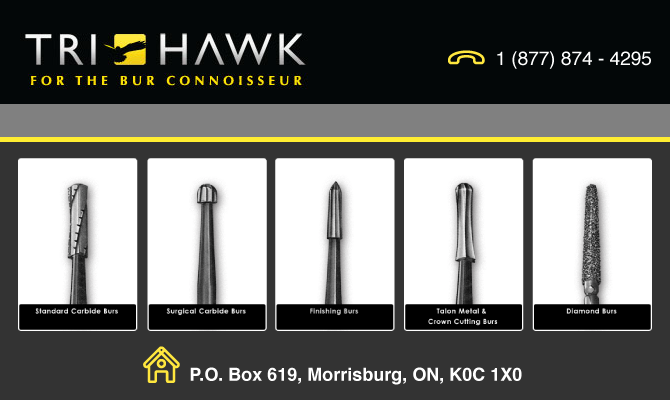 Who We Are
We think that Eastern Ontario is a pretty special place. The area has great access to water sports in summer and snowmobiling and cross country skiing in winter. It features a fine regional theater called the Upper Canada Playhouse, as well as an historic town nestled on the banks of the St. Lawrence River called Upper Canada Village. And it's home to Ottawa, the capital of Canada.
However, while we might be a little biased, we think the best place in Eastern Ontario is Morrisburg, which is the location of our world-class bur manufacturing facility.
There are three things that make the factory at 2 Prospect Road a pretty special place:
Our machinery. One big reason other manufacturers' burs seem to all perform the same is that they tend to buy their machinery from the same vendors. The way we see it, the way to make sure our burs are unlike everyone else's is to not only design our own shapes, but to design our own bur-milling machinery as well. And that's why the machinery that resides in our Morrisburg factory cannot be found in any other factory in the world.
Our processes. Some factories like to brag about "manufacturing to ISO standards." We, however, manufacture to Canada's ISO 13485 (CMDCAS) standards, which many experts consider to be the most exacting standards in the world. In fact, we are so obsessed with quality control that we inspect our products at up to ten different stages during the manufacturing process.
Our people. Canadians are known for their exceptional work ethic, but what really makes our people stand out is their tremendous pride. They aren't content to make the world's best bur; they are on a quest to make the perfect bur. Our customers may think we've already achieved that goal, but our people will tell you that while our burs might be the best, they're not quite perfect. Not yet, anyway.
If you're planning to visit to Eastern Ontario, you should know that we don't give public tours of our factory. Sorry, but we can't take a chance that our competitors will sneak in and try to steal our ideas.
But if you are in the area, please stop by to say hello. We're always interested in meeting another bur connoisseur!
Our Products
Tags:
BURS
,
Diamond Burs
,
Finishing Burs
,
Polishers
,
Standard Carbide Burs
,
Surgical Carbide Burs
,
Talon Burs