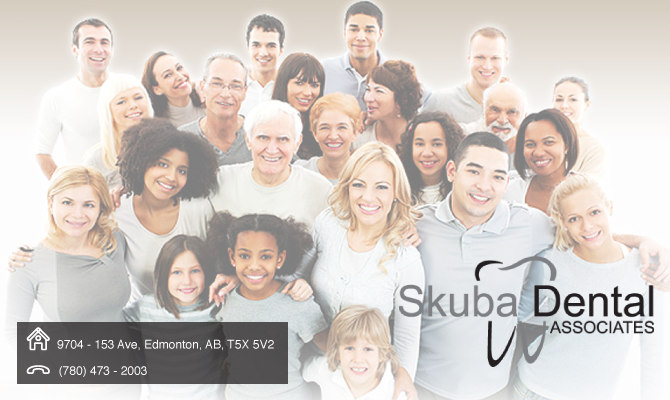 Who We Are
Family dentistry in Edmonton, Alberta. All of your oral health care needs including emergency care, children's dentistry, root canals, implants, crowns, cosmetic dentistry, tooth whitening
and more.
We are a family owned practice with 4 dentists and several dental hygienists.
We are gladly accepting new patients.
Dental insurance accepted and we bill directly.
Do you have a toothache, broken tooth or dental emergency?
Do you need an examination and hygiene care (checkup and cleaning)?
Has it been a long time and you are overdue to see a dentist or dental hygienist?
Does your child need a first dental examination?
Services
Diagnostic Services
Consulations
Second Opinions
Emergency Examinations and Treatment
Digital X-Rays
Dental Hygiene Services
Restorative Services
Fillings, Crowns & Bridges
Crowns
Bridges
Sealants
Endodontic Therapy
Surgical Services
Athletic Mouth Guards
Veneers
Children's Dentistry
Tooth Whitening
Dentures & Partial Dentures
Night Guards / Splints
Dental Implants
Tags:
Children's Dentistry
,
Consultations
,
Crowns & Bridges
,
Dental Hygiene Services
,
Dental Implants
,
dentures
,
Diagnostic Services
,
Digital X-Rays
,
Emergency Examinations
,
Emergency Treatments
,
Endodontic Therapy
,
Fillings
,
Mouth Guards
,
Night Guards
,
Restorative Services
,
Sealants
,
Second Opinions
,
Surgical Services
,
Tooth Whitening
,
veneers