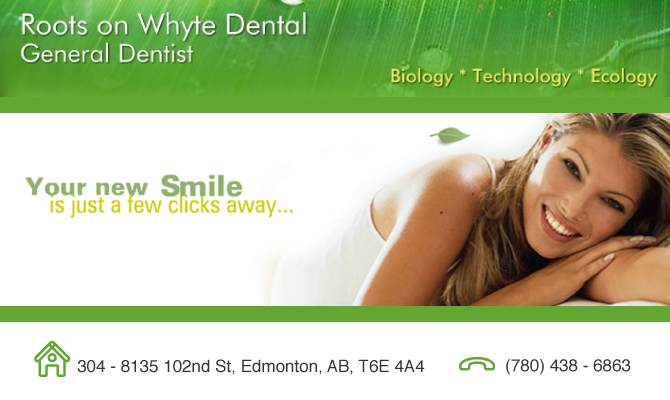 Who We Are
When you visit Roots on Whyte Dental, your smile is our top priority. Our entire dental team is dedicated to providing you with the personalized, gentle care that you deserve. We truly believe that all that is good begins with a smile… so smile like you mean it!
Come visit Roots on Whyte Dental, our Edmonton dental office where we are always happy to welcome NEW patients! At our dental office, our patients enjoy quality oral health care with a focus on ceramic materials in a environmentally friendly environment. We have been offering dental services in the area for many years! We are proud to offer a large variety of general and cosmetic dental treatments that are sure to meet your every need.
Part of Roots on Whyte Dental's commitment to serving our patients includes providing information that helps them to make more informed decisions about their oral health needs.
Services
Biology

Biology Overview
Oral Systemic Link
Amalgam Fillings
Nutrition

Technology

Technology Overview
Cerec AC Unit
Intraoral Cameras
Digital X-Rays
3D Digital X-Rays
Dental Lasers
Spectra Caries Detection

Technology

Ecology Overview
Digital X-Rays
Paperless Practice
Amalgam Disposal
Sanitation & Sterilization
Tags:
Amalgam Disposal
,
Amalgam Fillings
,
Cerec AC Unit
,
Dental Lasers
,
Digital X-Rays
,
Intraoral Cameras
,
Nutrition
,
Paperless Practice
,
Sanitation
,
Spectra Caries Detections
,
Sterilization