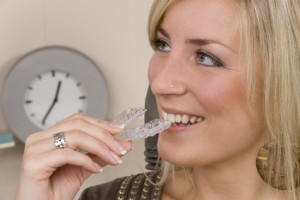 With braces being most often associated with children and teenagers, many people have the misconception that it is too late to treat crooked and misaligned teeth in adulthood. Teeth can be straightened at any age, using braces that can also correct bite and jaw problems. Not just an aesthetics issue, misaligned or crowded teeth can cause tooth decay, gum disease, headaches and earaches, as well as speaking, biting or chewing problems. Dental technology has made great strides in recent years, with braces becoming more comfortable, convenient and efficient than ever before. To inform you of the options available, this article will discuss the most commonly used methods to straighten teeth and their advantages.
Traditional metal braces
The most popular form of braces used today are traditional metal braces that use a bracket system. Brackets are the small squares that are bonded directly to the front of each tooth and act as handles, holding the arch wires that move the teeth. The arch wires are secured using elastics. Modern metal braces are made out of top quality stainless steel and are smaller and more comfortable than ever. Regular tightening appointments were previously essential to increase the pressure and tension on the teeth, but new body heat activated arch wires complete this process without any assistance. Metal braces are the least expensive form of braces but also the most noticeable
Ceramic braces
Many adults do not want other people to notice they are wearing them, as brace wearing is most often associated with children. For an additional cost, clear ceramic braces are available. The brackets are made of composite materials, intended to mimic the colors of your natural teeth. Barely visible to the naked eye, ceramic braces are popular with adults who want all the benefits of traditional metal braces (tried and true results) but a more visually appealing look. The one major difference and disadvantage between metal and ceramic braces is that the latter tends to break more easily. Patients need to treat ceramic braces with care as the composite material can stain if not looked after properly.
Lingual braces
There are a few other options available in addition to the traditional style of braces. Lingual braces are also metal braces, but they are fitted to the back of the teeth instead of the front. These braces work in a similar way as traditional braces however they are not typically visible to other people. They are also not suitable for all types of orthodontic issues. Lingual braces are usually much more expensive than the most common metal type and can be harder to get used to. Adjustments also tend to take longer and the braces can be difficult to clean. For some patients, these disadvantages are heavily outweighed by the visually appealing look.
'Invisible' braces
An increasingly popular alternative to metal braces is so-called invisible braces. These consist of a series of custom fitted aligners that fit over teeth and gradually shift them into place. The clear color of the retainers makes them very difficult for other people to notice. The aligners are removable but are typically worn all day and night except when eating, brushing and flossing. For this reason oral hygiene is often easier to maintain while using this type of brace. Invisible braces are best suited for individuals with mild spacing problems rather than more complex issues. Results with aligners may not be as fast as with metal braces and usually has a far higher price tag.
Making a decision
The first step to deciding which type of braces is right for you is to discuss your options with your orthodontist. For many adults, the look of the braces is the most important factor but this must be considered in relation to other issues. The nature and severity of your misalignment may mean you are not suitable for one or two of the options. Time may also be a factor since some of the methods involve a much longer process than others. Remember that getting braces as an adult usually means that results will take longer. Regardless of the type you choose, getting braces is a worthwhile investment for a healthy, beautiful smile.
Tags:
Ceramic braces
,
Choosing the right type of braces for you
,
Invisible Braces
,
Lingual braces
,
Traditional metal braces