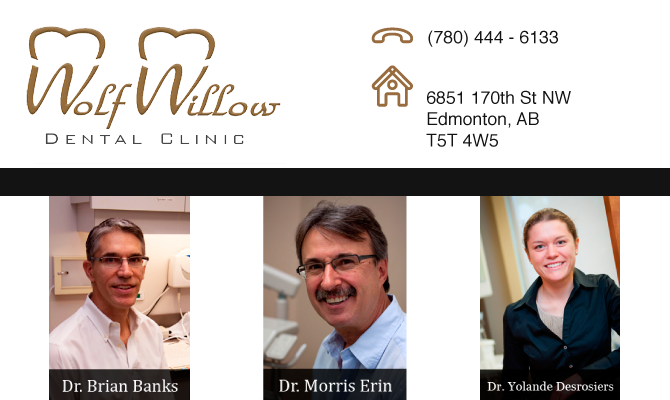 Who We Are
Wolf Willow Dental is a family oriented dental clinic located in West Edmonton. Our friendly doctors and hygienists provide a large variety of services to keep your smile bright and healthy.
Why choose Wolf Willow Dental?
Quality dental service
Friendly staff
Latest equipment and technologies
Convenient location and hours
and much more!
Always accepting new patients. Call us now to book your appointment.
Services
Dr. Brian Banks

Dental Exams and X-Rays
Preventive Services
Oral Hygiene
Periodontal (Gum) Care
Fluorides and Sealants
Resin (White), Gold and Porcelain Fillings
Conventional and Implant-Retained Crowns and Bridges
Porcelain Veneers
Full or Partial Dentures
Root Canals
Cosmetic Dentistry
Implant Restorations

Dr. Morris F Erin

Dental Exams and X-Rays
Preventive Services
Oral Hygiene
Periodontal (Gum) Care
Fluorides and Sealants
Resin (White), Gold and Porcelain Fillings
Conventional and Implant-Retained Crowns and Bridges
Porcelain Veneers
Full or Partial Dentures
Root Canals
Cosmetic Dentistry
Implant Restorations

Dr. Yolande Desrosiers

Dental Exams and X-Rays
Preventive Services
Oral Hygiene
Periodontal (Gum) Care
Fluorides and Sealants
Resin (White), Gold and Porcelain Fillings
Conventional and Implant-Retained Crowns and Bridges
Porcelain Veneers
Full or Partial Dentures
Root Canals
Cosmetic Dentistry
Implant Restorations
Tags:
Cosmetic Dentisty
,
Crowns & Bridges
,
Dental Exams
,
Dental X-Rays
,
dentures
,
Fluorides
,
Gold Fillings
,
Implant Restorations
,
Oral Hygiene
,
Partial Dentures
,
Periodontal Care
,
Porcelain Fillings
,
porcelain veneers
,
Preventive Services
,
Resin Fillings
,
Root Canals
,
Sealants