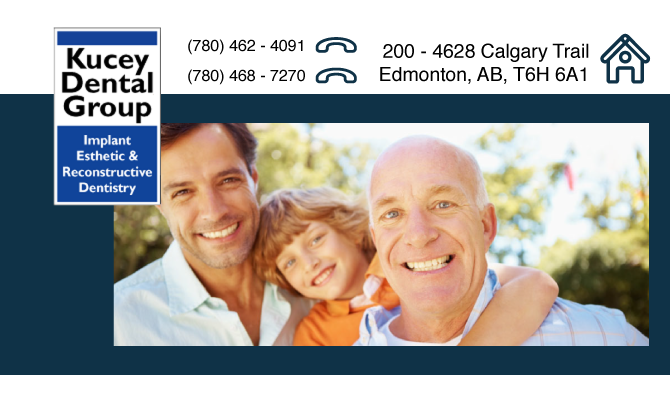 Who We Are
Achieve a Timeless Smile with Experienced Dentists in Edmonton
Welcome to Kucey Dental Group where we're prepared to take on the unique challenges of your dental care.
Whether you are ready to start treatment toward your dream smile or want to restore your smile to its former attractiveness, Drs. Brian K.S. Kucey and Elena Hernandez-Kucey can treat your full scope of dental issues.
General and Specialized Dentists in Edmonton
At Kucey Dental Group, Dr. Hernandez-Kucey provides distinctive care for general dental concerns. We emphasize dental health through prevention with regular cleaning, sealants, and gum care.
The Kucey Experience
We value your comfort and satisfaction. Here's what you can expect from our office.
We offer the latest in dental treatments so you always get excellent care.
For some, going to the dentist is anything but leisurely. We offer sedation dentistry and oral sedatives to help you manage anxiety during dental procedures.
Gloves, face masks, disinfection of surfaces and equipment, sterilization of instruments, and the use of disposable materials helps us make sure your health is protected.
In your first visit we'll collect your medical history, perform a careful examination, and gather your insurance information. We'll present you with all the options available and work with you to create a dental plan that accomplishes your goals.
Stop dreaming about a better smile or healthier teeth; make the perfect smile a reality.
Specialty Treatments
Cosmetic
Prevention
Tags:
Aftercare
,
Bad Breath
,
Cosmetic Dentistry
,
Crowns & Bridges
,
Dental Care for Kids
,
Dental Implant Restorations
,
Dental Implants
,
Dental Sealants
,
dentures
,
Fillings
,
Invisible Braces
,
Laser Therapy
,
Maintenance
,
Oral Hygiene
,
Partial Dentures
,
Periodontal Maintenance
,
Porcelain Inlays
,
Porcelain Onlays
,
porcelain veneers
,
Preventive Dentistry
,
Restorations
,
Root Canals
,
teeth whitening
,
Tooth Extractions